Hey guys. There hasnt been much activity from us, I know. But now C&C Source has moved to the new Meaaov network, these forums won't be crashing any more. Now onto the mod updates!
danpaul88 has been
slaving
coding away and has come up with, none other than enhanced AI
"What does this mean?" you ask. Well, for starters, the AI now prioritises targets and takes out the object that it considers to be the biggest threat. So if your AI Apocalypse Tank friend is busy blasting away at an IFV then a harrier comes overhead, it will switch targets to the harrier because it is more of a threat than the IFV. Neat eh? Also, this new AI can differentiate between armour types so if you were thinking that the AI Mammoth Tank was too stupid to think to use the rockets on you and your rocket soldier friends, think again. The AI like to ruin your day by making it's shots effective
>>>Here is a video of it all<<<
Now, you may or may not have seen our new userbars that we have been flashing around, courtesy of Merovingian. Check out the one he made for all you AR supporters
[url=www.ar.cnc-source.com][img]http://img219.imageshack.us/img219/9775/aruserbarsspge6.jpg[/img][/url]
For one of the releases of Apocalypse Rising, we may include a training map for the n00bs to play before they come into an MP game. This mission will feature the mod devs as tactics instructers with all new voiceovers and maybe a few easter eggs thrown in. More on this in the coming month
Finally, we have something map shaped from, our 3d messiah, Ric. Remember the Ra2 map, Isle of War? Well here it is in it's 3d WIP form.
NOTE: This map is only a WIP example and will be heavily modified before it goes into Apocalypse Rising. The textures are an example of the climate this map is set in and are also not final.
Well, this has been a pretty good blog all round and before I wind it up, I have some personal news from me to give to you.
Next monday, it is my birthday!
This has been an Apocalypse Rising Dev blog brought to you by One Winged Angel. See you next week, when cfehunter makes his triumphant return!
Update: The main building of the Allied Forces, the Constructuction Yard, is ready to build!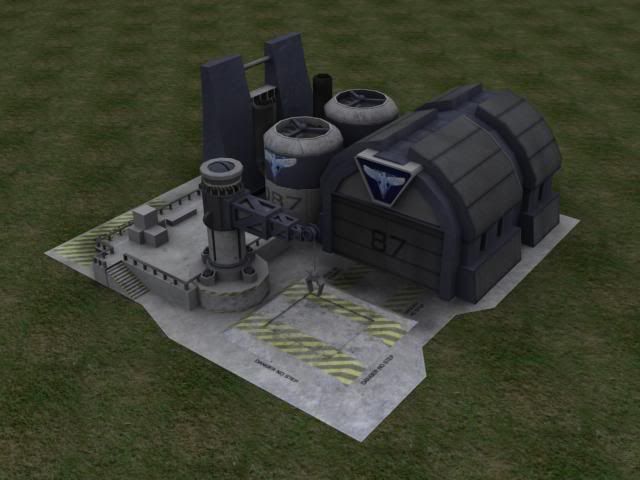 A model by the VOA Team with a texture by Skulking_Ferrit.
That really is all until next week