First of all: I really love the stuff from TSR that I have seen so far, but after looking at the latest screens I reeaallly have to ask:
Why are you using these ungodly ugly circles around stuff?!
Honestly, you have a beautiful, gritty, edgy and "realistic" looking art design and then proceed to throw it all away with colored circles? What is the point of that? It looks out of place and ruins the ambiance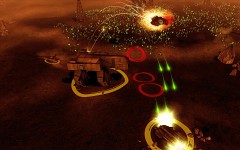 I can see that the TW style HC might look ugly to you, but thats because the artists made the HC textures so incredible small that they became featureless blobs of colour.
Just take a look at the GDI Foxhole: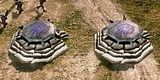 It is a perfect example of a good HC - it is not blurry, it keeps the basic structure of the texture under it and it blends perfectly into the object.
And it has the added bonus of being similiar to the way it was done in TS
SO why not do it this way?
Regards,
Stygs