Yes, that's right. After several years of plans, all grouped under the temp name of Ren2 Mod, Red Phoenix has been born!
As its name and logo might suggest, we are bringing you a story of a shattered world at the end of Red Alert2, when a high ranking soviet commander has gambled its last card in the name of socialism, by launching an "war to end all wars" over the USA that will in the end unexpectedly bring the world into the Tiberian universe.
http://www.youtube.c...h?v=hTRLAfckKBo
And now for a video treat to everyone! To keep it short, you get a 3 min stroll through two of our current maps where you'll get to see several of the mod assets we've got and lastly, something unique in the history of C&C mods and possibly in all of modding history : FMV shorts with real actors !
The FMVs are still at their beginning so don't expect Hollywood quality on this one
[also: sound encoding is crap, you may want to mute your volume if you find it unbearable!]
Don't forget to visit us at :
www.ren2mod.proboards51.com
!
I take this opportunity to announce that we've also got a lot of vacant positions as I'm the only team member, so, if you don't have anything to do, why not join us ? That is if you want
.
www.ren2mod.proboards51.com
Please voice your opinion, give feedback, comment as long as its within reason.
Also, suggestions as to where I may search for people are more than welcomed as I'm at the beginning of doing such things.
Thank you for your time and for reading this!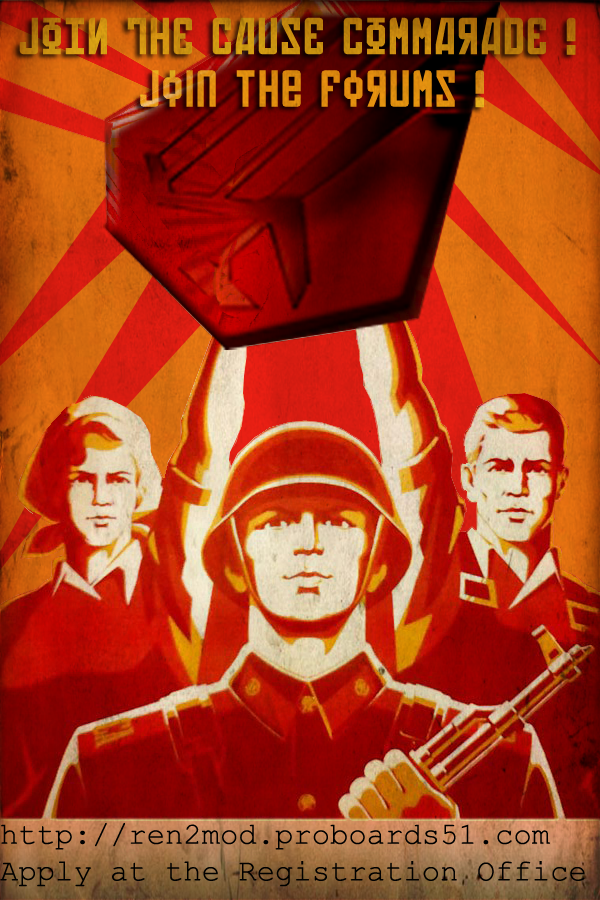 JOIN US !