So, after a long time of try and error (sometimes more error than try
), I finally managed to get my mod to be the way I wanted it to be.
Its more or less an improved version of my old TWmod, but I decided to give it a different name. :razz:
Quote
TW Advanced 1.0
Bugfixes and error corrections:
-Militant Squads now correctly gain suppression bonus
-Nod Crane: Health increased by 50%, normalizing its health with that of the GDI Crane and Scrin Foundry
-Added a delay for the Warp Sphere - wow it takes some secons, befor finished vehilces leave the building
-Reconstruction Drones dont count as buildings anymore
-Fixed a dislay error which prevented some weapons from showing grafic effects when attacking GDI soldiers
-Corrupter, Seeker, Devastator Warships and Planetary Assault Carrier now take more damage from flanking and attacks from behind
-removed directional armor from GDI MCVs and Surveyors (normalizing them with their Nod/Scrin counterparts)
-fixed a small grafic glich for GDI harvester when unloading

Overall Changes:
-removed EA video
-changed credits.ini
-changed some ingame texts
-infantry gets a different suppression bonus: instead -75 speed & +25 armor, its now -50 Speed & +50 Armor
-Added some dummy objects for the worldbuilder. When placed on maps, the will emit patricle systems. You can find them under "Civilian\System"
--ParticleSys_SmallFire01, ParticleSys_MediumFire01, ParticleSys_MediumSmoke01, ParticleSys_MediumSmoke02 & ParticleSys_Tiberium01
-Changed stealth detector range for Pittbulls, Nod Bikes and Seeker from 400 to 250
-Changed stealth detector range for infantry (exept Commandos, sniper and Masterminds) from 100 to 50
-Changed stealth detector range for sniper from 400 to 250
-changed some AI setting for using specialpowers
-additionel particlesystems for Firehawk and Orcas
-Changed the way units clean garrisoned building:
--the effectiveness variies from unit to unit - flame tank for example are way more effectiv then grenadiers
--Buzzer after cleaning buildings
--Firehawks can now clean buildings with their bombs
-Tiberium gives less money (50%), but it contains more cristalls (from 50 to 60) - you get less money, but the field will last a bit longer
-all MCVs vost 5000%
-walls are buildable
-radar is move from construction yard to the Command Post, Operations Center and Nerve Center
-GDI Ox transposrts and Nod Carryalls have doubbled their health
-Armageddon bomber health is now 4000 instead of 600
-cranes can build tier1 defense buildings again

GDI:
-anti-aircraft batterys deal more damage (from 25 to 30)
-modified the Orca
--now armed with a Gatling gun for taking out infantry
--changed the behaviour to make it look more like a heavy attack & support craft
-Grenadier Squad: Range increased by 20%.
-Mammoth Tank: Turret turn rate reduced by 33% and edited locomotor
-Orca bombing runs deal more damage
-improved Guardian cannon and aligned it the Rig weapon
-lowered Sonic Emitter damage and raised reloading time
-lowered Zone Trooper range (200 von 250)
-Replaced the Spotter from the Sniper Team with a second Sniper and improved attack range
-random skins for zone troopers

Nod:
-Stealth Tanks now shoot 6 missiles instead of 10, but the total amount of damage stays the same
-Fanatics: Cost/Build time reduced by 13% to 700/7.
-Beam Cannon: Improved range for Reflector Beam. Its now the same as for the normal attack.
-Laser Turret: Raised Damage from 140 to 300.
-Temple Of Nod: Computer Counter Measures is now a Player Power and costs 1000$.
-Avatar: Main weapon's attack power increased by 10%.
-Flame Tanks: Lowered attack bonus versus building from 150% to 125%.
-Black Hands: Cant be crushed from normal tanks (Mammoths can still crush them)
-Secret Shrine: Can now heal infantry.
-Disroption Towers: Can now cloak themself.

Scrin:
-Disintegrators: When crushed by enemy vehicles, attack power of explosive revenge attack doubled.
-Devourer: Cost and buildtome lowerd to 1200/12.
-Seeker, upgraded Shock Trooper and Devastator Warships do 10% less damage versus vehicles and aircrafts.
-The Swarm: Now spawns 6 instead of 7 Buzzer.
DOWNLOAD
And finally some pictures: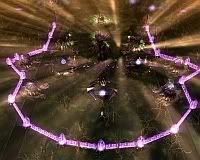 Note: the mod ist based on TW 1.08, a 1.09 version will come later
And Last, but not Least:
A huge thanks for all who helped me and supported me when working in this modification, especially Golan, Kasian, Lord Of The Sith and all the guys from Thundermods.net, Project Perfect Mod and CNC3.net.
Also especially thanks to ccgx and
http://www.lods-development.de/
for hosting the mod.
PS: Sorry for my crappy english